Graduate Theology
Why study Theology at Providence College?
The Graduate Theology Program is a singular offering at a singular institution — the country's only college founded, sponsored, and staffed by Dominican Friars. In the Dominican tradition, our faculty are working scholars who "share the fruits of their contemplation" with students. Our faculty is ecclesially minded, and teaches a theology that is deeply rooted in the Roman Catholic tradition, grounded in the concrete life of the Church and in accord with the Church's magisterium.
Who is Our Typical Student?
Our program attracts a variety of students, including traditional-minded graduate students who have attended a Roman Catholic undergraduate institution, educators or lay ministers working in the Roman Catholic Church, and employees of local dioceses and Catholic high schools. The program also serves Dominican sisters from traditional communities. Additionally, we encourage applications from students with diverse and non-traditional backgrounds who have discovered a desire to study theology.
Be a Part of Our Community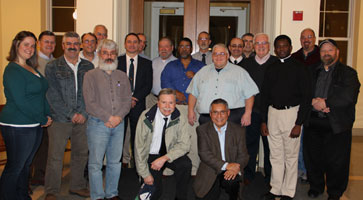 We take great pride in the Providence College tradition of a community that feels like family. There is a great sense of camaraderie among the faculty and students in PC's graduate and undergraduate theology programs. As teachers and as students, we come together through scholarship and prayer, but we also come together as friends — on campus and off.
The neighborhood parish of St. Pius offers a young-adult group that meets Thursday evenings. Adoration begins the night, followed by a discussion, guest speaker or activity that explores topics in theology, scripture, philosophy, or the church. Afterward, fellowship continues at local haunts. As part of our young adult ministry, theology faculty regularly take part in "Theology on Tap" events, where people can discuss big issues in an informal setting, often over food and drinks.