Dr. Ian Christopher Levy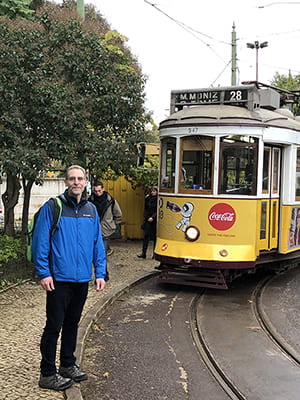 (Ph.D. Marquette University, 1997). Professor of Historical Theology, he teaches courses that address the development of doctrines and changing religious perspectives across Christian history.
Research
Professor Levy's principal fields of research are medieval biblical exegesis, sacraments, and ecclesiology. He is especially interested in the roles of authority, tradition, and conscience in the determination of Catholic doctrine.
Selected Publications
"John Wyclif and the Eucharistic Words of Institution: Context and Aftermath," Church History 90 (2021): 21-44.
"The Words of Institution and Devotion to the Host in the Wake of Wyclif," in Before and After Wyclif: Sources and Influences, ed. L. Campi and S. Simonetta (Brepols, 2020), 111-152.
"Contrition, Confession, and the Power of the Keys in the Summa Halensis," in The Summa Halensis: Doctrines and Debates, ed. Lydia Schumacher (De Gruyter, 2020), 275-302.
"The Leipzig Disputation: Masters of the Sacred Page and the Authority of Scripture," in Luther at Leipzig, ed. M. Mattox, J. Mumme, and R. Serina (Brill, 2019), 115-144.
Introducing Medieval Biblical Interpretation: The Senses of Scripture in Premodern Exegesis  (Baker Academic Press, 2018).
"Dispensing Against the Apostle: John Wyclif and the Canonists," in Inventing Modernity in Medieval European Thought, ed. Bettina Koch and Cary Nederman (Medieval Institute, 2018), 213-229.
"The Gospels and the Papacy in the Late Middle Ages," in Producing Christian Culture: Medieval Exegesis and Its Interpretative Genres, ed. G. Gasper, F. Watson, and M. Crawford (Routledge, 2017), 192-210.
"The Place of Holy Scripture in John Wyclif's Theology," in The Wycliffite Bible: Origin, History and Interpretation, ed. Elizabeth Solopova (Brill, 2017), 27-48.
"Interpreting the Intention of Christ: Roman Responses to Bohemian Utraquism from Constance to Basel," in Europe After Wyclif, ed. J. Patrick Hornbeck and Michael Van Dussen (Fordham, 2017), 173-195.
"Liberty of Conscience and Freedom of Religion in the Medieval Canonists and Theologians," in Christianity and Freedom: Historical Perspectives, ed. Timothy Shah and Allen Hertzke (Cambridge, 2016), 149-175.
"The Old and New Law in Nicholas of Lyra's Pauline Commentaries," Letter and Spirit 11 (2016): 113-128.
"Nicholas of Lyra: The Biblical Prologues" +  "John Wyclif: The Hermeneutics," in Handbuch der Bibelhermeneutiken, ed. Oda Wischmeyer (De Gruyter, 2016), 239-253 + 255-270.
"John Wyclif and Christian Humanism," in Medieval Christian Humanism, ed. John Bequette (Brill, 2016), 297-312.
"Wycliffites, Franciscan Poverty, and the Apocalypse," Franciscan Studies 73 (2015): 295-316.
"The Study of Theology in the Middle Ages," in The Routledge History of Medieval Christianity, ed. Robert Swanson (Routledge, 2015), 63-76.
"The Eucharist in the Fourteenth and Fifteenth Centuries," in The Oxford Handbook of Sacramental Theology, ed. Hans Boersma and Matthew Levering (Oxford, 2015), 235-248.
John Wyclif's Theology of the Eucharist in Its Medieval Context (Marquette, 2015).
Nicholas of Cusa and Islam: Polemic and Dialogue in the Late Middle Ages, editor with Rita George-Tvrtkovic and Donald Duclow (Brill, 2014).
"Bruno the Carthusian: Theology and Reform in His Commentary on the Pauline Epistles," Analecta Cartusiana 300 (2013): 5-61.
The Bible in Medieval Tradition: The Letter to the Romans, with Philip Krey and Thomas Ryan (Eerdmans, 2013).
Holy Scripture and the Quest for Authority at the End of the Middle Ages (Notre Dame, 2012).
The Bible in Medieval Tradition: The Letter to the Galatians (Eerdmans, 2011).
A Companion to the Eucharist in the Middle Ages, editor with Gary Macy and Kristen van Ausdall. (Brill, 2011).
A Companion to John Wyclif: Late Medieval Theologian, editor. (Brill, 2006/2011).
"Authentic Tradition and the Right to Dissent: William of Ockham and the Eucharist," American Catholic Philosophical Quarterly 86 (2012): 457-485.
"Wyclif Contextualized—Magister Sacrae Paginae," in Wycliffite Controversies, ed. Mishtooni Bose and Patrick Hornbeck (Brepols, 2011), 33-57.
"Flexible Conceptions of Scriptural and Extra-Scriptural Authority among Franciscan Theologians around the Time of Ockham," Franciscan Studies 69 (2011): 285-342.
"The Eucharist in Canon Law," in A Companion to the Eucharist in the Middle Ages, ed. G. Macy, K. van Ausdall, I. C. Levy (Brill, 2011), 399-445.
"Holy Scripture and the Quest for Authority among Three Late Medieval Masters," Journal of Ecclesiastical History 61 (2010): 40-68
"The Literal Sense of Scripture and the Search for Truth in the Late Middle Ages," Revue D'Histoire Ecclésiastique 104  (2009): 783-827.
"Guido Terreni: Reading Holy Scripture within the Sacred Tradition," Carmelus 56 (2009): 73-106.
"Thomas Netter on the Eucharist," in Thomas Netter of Walden: Carmelite, Diplomat and Theologian, ed. Johann Bergström-Allen and Richard Copsey (Saint Albert's, 2009), 273-314.
"Trinity and Christology in Haimo of Auxerre's Pauline Commentaries," in The Multiple Meaning of Scripture, ed. Ineke van't Spijker (Brill, 2009), 101-123.
"John Wyclif and the Primitive Papacy," Viator 38 (2007): 159-189.
"John Wyclif on Papal Election, Correction, and Deposition," Mediaeval Studies 69 (2007): 141-185.
"John Wyclif and the Christian Life," in A Companion to John Wyclif: Late Medieval Theologian (Brill, 2006/2011): 292-363.
"Grace and Freedom in the Soteriology of John Wyclif," Traditio 60 (2005): 279-337.
"John Wyclif: Christian Patience in a Time of War." Theological Studies 66 (2005): 330-357.
"John Wyclif's Neoplatonic View of Scripture in its Christological Context," Medieval Philosophy and Theology  11 (2003): 227-240.
"Defining the Responsibilities of the Late Medieval Theologian: The Debate between John Kynyngham and John Wyclif," Carmelus 49 (2002): 5-29.
John Wyclif's On the Truth of Holy Scripture. Translation with Introduction and Notes (Medieval Institute, 2001).
"Useful Foils: Lessons Learned from Jews in John Wyclif's Call for Church Reform," Medieval Encounters 7 (July 2001): 125-145.
"Was John Wyclif's Theology of the Eucharist Donatistic?," Scottish Journal of Theology 53 (2000): 137-153.
"Christus qui mentiri non potest: John Wyclif's Rejection of Transubstantiation," Recherches de Théologie et Philosophie Médiévales 66 (1999): 316-334.
"John Wyclif and Augustinian Realism," Augustiniana 48 (1998): 87-106.