Fr. Terence J. Keegan, O.P.
(S.T.D., Angelicum University, Rome, 1976). He teaches and publishes in the area of Biblical Studies.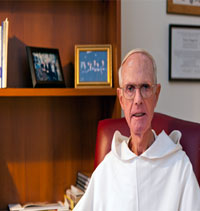 Father Keegan has been teaching in seminaries and colleges since 1969. He has been at Providence College since 1975.  He is an active biblical scholar working for many years on task forces with the Catholic Biblical Association of America.
Research
Fr. Keegan has published several books and numerous articles on biblical interpretation and New Testament studies, especially on the Synoptic Gospels, and the Epistles of Paul, some of which include:
A Commentary on the Gospel of Mark (Paulist Press, 1981/2005).
Christian Biblical Ethics [co-authored with R. Daly et al.]  (Paulist Press, 1984).
Interpreting the Bible: A Popular Introduction to Biblical Hermeneutics (Paulist Press, 1985/2005).
First and Second Timothy, Titus, Philemon (Collegeville Bible Commentary series, 2006).
"Introductory Formulae for Matthean Discourses," Catholic Biblical Quarterly 44 (1982): 415-430.
"The Parable of the Sower and Mark's Jewish Leaders," Catholic Biblical Quarterly 56 (1994): 501-518.
"Biblical Criticism and the Challenge of Postmodernism," Biblical Interpretation 3 (1995): 1-14.